First lines are possibly the most important and hardest part of writing an email. To help you with that, we've got 75+ ways to write the first line.
We've all been there. We have the pen in our hands, a fresh page, and pin-drop silence (most of us have gone digital, but you get the point here). Even still, we can't find a good opening statement if our lives depended on it.
If this happens to you often, don't sweat it. Outreachbin has got your back with a list of 75+ ways to write a first line that can impress any person in any walk of life. It's as easy as reading this article, so what's there to worry about?
So without further ado, let's learn how to master the art of captivating your reader within seconds.
75+ Ways to Write a First Line
We've broken down these emails by industry. Why industry? Your career is perhaps that aspect of your life where you need to pique someone's interest.
The Ideal First Line for Job Applicants
Whether it is your first time applying for a job, or your hundredth, grabbing the recruiter's attention should be your main priority. Our listed first-lines will help to ease your emailing struggles.
1. Be Direct

Directly mention why you are writing the email in the first line. Recruiters see multiple essays at once; it saves their time.
Example:
"I am writing this letter to apply for the position of head engineer."
2. Provide Short Details
Mention every detail you can in short. Recruiters will get to know a lot about you by the first line.
Example:
"As an experienced engineer with a master's degree, the position of the head engineer is ideal for me."
3. Stay Formal
This is the official tone of writing and the only accepted style in most cases. You are applying for a job, not to make friends.
Example:
"I wish to apply for the position of a senior manager at your esteemed company."
4. Be Friendly
You need to be on friendly terms with the recruiters. It adds a charming personal touch.
Example:
"You have a lot of these to get through, so I'll try to keep it as short as possible."
5. You Can Be Funny Too
Write a quirky opening line. This is risky, however. A chuckle always helps your case.
Example:
"As this is the 100th job I'm applying to, I know the chances of you selecting me are slim."
6. Show Confidence
Own the room. Recruiters will have no reason not to trust your self-confidence.
Example:
"As an experienced and highly qualified writer, I believe I stand out from the rest of the candidates."
7. Remain Humble
Don't oversell yourself. Humility is always appreciated.
Example:
"It would be an honor to work for your prestigious firm given my lack of experience in comparison to a lot of the other candidates."
8. It's Okay to Show Excitement
Show you want to work there right in the first line. Enthusiasm shows that you won't slack off, probably.
Example:
"I hope you consider me as a candidate as it would be a great pleasure to hop on board such an exciting mission."
9. Remain Calm
Write a mature collected opening. It shows a lot of maturity and tact.
Example:
"I would like to apply for the post of assistant manager".
10. Flatter Your Recruiters
Compliment the companies' achievement. Who doesn't love an ego boost?
Example:
"I'm applying for the post of sous chef as it would be an honor to serve under such a talented team of managers in such a prestigious restaurant."
11. Constructive Criticism
Find flaws in the company (that you can fix). It shows excellent observation skills.
Example:
"As an experienced IT manager, I can help update your outdated website."
12. Show Curiosity
Ask questions about the job opening. It shows intrigue and interest in company policies.
Example:
"I would like to enquire about the opening for the post of head curator and the duties that come with it."
13. Know-it-All
Show that you know a lot about the job you are applying for. It shows experience and knowledge of the intricacies related to the job
Example:
"With 5 years of experience in MS excel, I feel confident in applying for your accountancy job."
14. Qualified
Talk about how you are qualified for the job opening. It shows that you have studied or trained for this job.
Example:
"As an MIT graduate and head scientist at Lovell Tech ltd, I believe I am an ideal fit for this job,"
15. Hard-Worker
Show your determination through writing. Determination is a highly desired quality in a worker.
Example:
"Despite lacking the experience, I will work very hard as the assistant manager at your store."
16. Number-Game
Add a numerical fact about the company in your cover letter because it shows that you have done your research.
Example:
"Out of the 4000 applicants you receive yearly, my qualifications should make me a standout."
17. Non-Numerical Stats
Add a non-numerical fact about the company in your cover letter. Again, it shows that you have done your research.
Example:
"Since 2006, your company has been at the top of the market, and I wish to contribute to that mission by joining you."
18. Refer Contacts
Talk about your reference because familiarity always gives you a unique advantage.
Example:
"John Gideon, the art director of your company, has recommended that I apply for the position of curator at your museum."
19. State Common Interests
Just find easy talking points. This could be a talking point about the company, a mutual hobby with the recruiter or even, a world event.
Example:
"As football enthusiasts, we can call this job a tap in for me because of how well suited I am for this position."
20. Suggest Early Contribution
Recommend a way to improve operations. It shows initiative and smart ideas.
Example:
"An efficient filing system is something your company lacks and as your librarian, I can fix that".
Professional First Lines For Recruiters
You can also check out some of our listed cold email template ideas to implement with the first-lines mentioned below to create more diversity in your emails.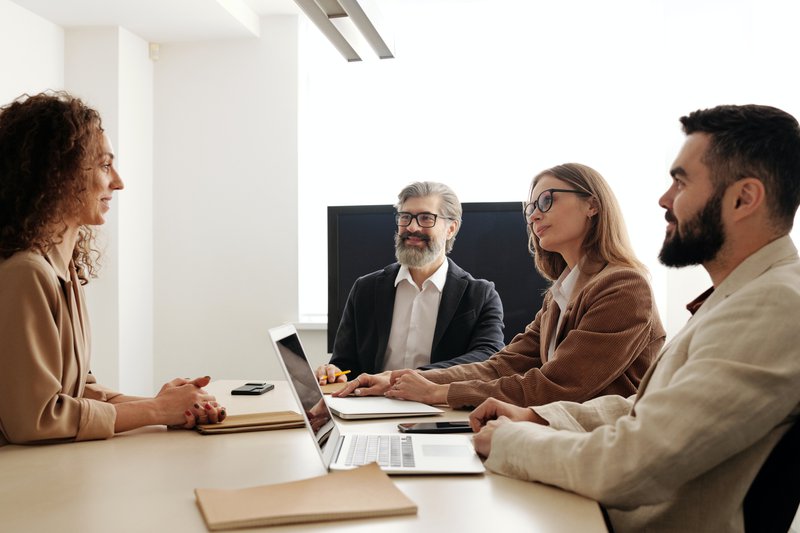 1. Personalized
This is an important distinction that can affect the job applicant heavily, so you don't want to skip out on personalizing your first line.
Example:
"Though you were an excellent candidate, John Doe, we chose to go another direction."
2. Be Professional
The second approach to writing a reply email to any applicant is a general acceptance or rejection letter.
Example:
"You have been accepted as the regional manager of Dunder Mifflin".
3. Straight-Forward
In these emails, you don't want to waste any time. Tell them the result instantaneously.
Example:
"You do not meet the qualifications for the job opening."
4. Create Build-Up
The first line can also build-up to the result as it is a much more formal and refined way of writing as opposed to directly announcing the result.
Example:
"We are writing to respond to your job application for the head chef at our restaurant."
5. Keep It Short
Some reply letters have a very short opening statement.
Example:
"You are recruited as the general manager."
6. Making It Long and Detailed
Some reply letters start much longer and take a lot more time to address the receiver.
Example:
"We are writing this letter to inform you that you have been recruited as our general manager and will be an addition to our team."
7. All-Business
It is sometimes recommended not to connect with any applicant under any pretense.
Example:
"We are writing to inform you that you have been recruited as the chief financial officer at our firm."
8. Light-Hearted
In sharp contrast, you can try your very best to connect with their applicants through these reply emails.
Example:
"Welcome aboard, you are now part of the editing time at Wolframite eSports."
9. Congratulatory
Some reply emails start by congratulating the applicants who get the job.
Example:
"Congratulations! You have been selected as our head writer."
10. Apologetic
In the case of rejections, you may offer your condolences through an apology. This also helps soften the blow in a lot of the cases. Make sure you state the cause for the rejection later in the body.
Example:
"We are sorry, but your application for the job has been rejected."
11. Express Happiness
You may express joy at the applicant's employment.
Example:
"We are very glad to inform you that you are our new head of marketing."
12. Sombre for Rejections
You may also express your sympathy for applicants who have been rejected with a heartfelt email.
Example:
"We regret to inform you that we will be unable to take you underemployment"
13. Provide Statistical Value
Some stats can be used as an opening statement in a reply email.
Example:
"Out of the 4000 applicants, your portfolio matched our needs best."
14. Give Instructions
Once employed, you may open up with an instructional opening line.
Example:
"You have been employed as our head librarian and as such shall be in charge of all bookkeeping".
15. Motivational
On rejection, you may try to motivate the rejected applicants.
Example:
"Unfortunately, despite your impressive resume, we cannot hire you."
16. Qualifications
Sometimes, you may reject applicants over qualifications. You can specify this in some emails to help them focus on this aspect and improve it.
Example:
"We regret to inform you that your qualifications do not match the requirements for this job."
17. Talk About Inexperience
You can also reject candidates due to their inexperience for the position. Adding your reason as the first line will also help the candidate improve for future applications.
Example:
"We regret to inform you that your experience does not match the requirements for this job."
18. Soft Skills
Sometimes, you may reject applicants over soft skills. Specifying them in email first lines can allow them to understand where they were lacking, to begin with.
Example:
"We regret to inform you that your soft skills do not match the requirements for this job."
19. Work Attitude
You may have gotten the idea that the applicant may have a bad work attitude. You can reject him politely through this opening statement.
Example:
"We regret to inform you that your work attitude does not match the requirements for this job."
20. References
You can reply to the mutual contact that the applicant brings up in his or her application.
Example:
"John Gideon has always been a very reliable reference."
Catchy First Lines for Youtubers
Let us get you up and running with these first-lines that are bound to grab your audience's attention. Say hello to new subscribers and that Diamond Play-Button you've been working your ass off for!
1. Personal Details
You can start with details about yourself. This may help the reader connect with you.
Example:
"Hey, this is Hannah from Youtube (channel name), and I'm a proud American!"
2. Joining Date
You can mention how long you've been uploading. Older YouTubers are respected in the community.
Example:
"I've been making videos since 2011."
3. State Your Sub-Count
You can also mention the number of subscribers you have on your channel. A high sub-count increases the effectiveness of your email.
Example:
"We're at 3 million subs- join us."
4. Short-term Goals
You can also let the email reader know about your short-term goals. This will help him empathize with you as he gets to know you better.
Example:
"I'm trying to reach 56k subs by this month."
5. Long-term Goals
You may also include long-term goals that the reader may be interested in.
Example:
"Let's donate 50k dollars to save the children by this time next year."
6. Upload Rate
Frequent uploads are seen as a huge positive.
Example:
"Hello, I'm Steve and I upload daily."
7. Region
You may even talk about the region you live in to relate with locals.
Example:
"I'm Mark and I am living in Denmark."
8. Other Famous YouTubers
You can reference other famous YouTubers to gain attention and higher click-rates.
Example:
"I'm LordFalcon34 and I think PewDiePie is overrated."
9. Be a Comedian
As a comedian, this is a good platform to crack jokes.
Example:
"I am a Nigerian prince and you should subscribe to me so I can win back my kingdom."
10. News Reporter
You can also advertise a news channel through email.
Example:
"Get the latest news with me, Harry Teal."
11. Show Them You're An Educator
You can also advertise an education channel through email.
Example:
"Teaching is my passion, and I'm here to spread awareness (state about which concept)."
12. Animal Lover
Animals are well-loved everywhere, so why not show your mutual interest in them, and work your way through the open-rates with them?
Example:
"Cuddly, soft, and cute animals are what make me happy. What about you?"
13. Be a Motivator
People are die-hard fans of motivational speakers, and if that sounds like you, then use this simple first line to catch your audience's attention.
Example:
"You can do anything you want in life, and I can make you believe that. Wanna know how?"
14. Gamer
All gamers unite! Check this line out if you want your CoD and Minecraft bros generating higher open-rates for your emails.
Example:
"Living the life of a pro-gamer. Come join me build an AU on (state platform) today!"
15. Infotainer
Yup, an infotainer is a thing, and YOU can now generate more traffic to your channel with fun, and quirky first lines.
Example:
"I love to teach and entertain at the same time, and if that sounds like something you've been looking for, hit me up!"
16. Daily Vlogger
Ah, who doesn't love vlogs? Want more subs for your wholesome channel? Maybe want more likes on that new Mukbang vlog of yours? Use this first-line!
Example:
"Mukbang, Work, and Repeat- Here's a quick look into a day in my life."
17. Beauty Vlogger
Got some new makeup ideas you want to introduce to your audience? This one line might be the one to get their attention.
Example:
"Watch me change into a Jenner with the new Innisfree bronzer!"
18. Foodie
Nothing gets people opening emails faster than food. Let 'em know what meal you're ready to binge on for the weekend.
Example:
"Got my Soda, X-large pizza, and 3 In-N-Out shakes ready for some weekend binge-fest. Watch me munch it all down!"
19. Reviewer
You can also review the latest products in the market, and write a fun first-line around it to hook in your audience.
Example:
"Samsung S21 Ultra Honest Review: Yay or Nay?"
20. Life Hacker
Not to be the next 5-Minutes Crafts, but you can bring some attention to your latest DIY hack through a first-line as well.
Example:
"Delicious spaghetti-hack with Squash? Hello healthy-living!"
Impressive First Lines for Dentists
As boring as dentistry may be, there's no reason for your emails to be an equal drag as well. Spice things up and make your audience come to you with the first-lines stated below.
1. Attract With Incentives
Lure potential customers with benefits, while also showing them they have full control over their lifestyle.
Example:
"Eat as many chocolates as you want as long as you are seeing me regularly."
2. Use Scare-Tactics
No one likes dentist appointments. Use that to your advantage.
Example:
"You should see me once a year unless you want your teeth to be drilled."
3. Provide Statistics
Dental statistics are quite interesting, regardless of the gloomy results behind them.
Example:
"It is estimated that oral diseases affect nearly 3.5 billion people."
4. State Your Price
Highlight that you charge lower prices (if you do). People are suckers for discounts and coupons to appointments.
Example:
"You've won but at what cost? A lower one of course."
5. Create Importance of Dental Care
Emphasize how crucial teeth are. Of course, your readers will know about it, but there's no harm in highlighting their importance as a first-line.
Example:
"You can't eat without your teeth, so let me take care of them for you."
6. Compare With Other Dentists
Explain how you are different. There are plenty of dentists out there, so specify what makes YOUR job special.
Example:
"If you want the best affordable dental care in town, there is only one option and that is me."
7.Be Confident
Self-assurance is a good quality in a medical professional. It shows confidence in your occupation, while also allowing the audience to put faith in the right place.
Example:
"I'm a class A dentist and I've got the degrees to prove it."
8. Stay Humble
You can tone it down a bit too if cockiness isn't your thing.
Example:
"Your teeth deserve attention and you can count on me for giving them my all."
9. Talk About Work Hours
You can also talk about how long you're in the office, thus letting people know when you're available.
Example:
"I am available to provide the total dental care experience from 9 AM to 5 PM every weekday."
10. Introduce Past-Patients
Talk about a patient that the recipient may know so the person you are emailing can trust you.
Example:
"Hey, your friend Anna said you needed a good dentist and I can help with that."
11. Famous Clients
Talk about famous clients if you have any. This shows your work-place being reputed enough to attract national/international stars.
Example:
"Ever wondered which dentist that Britney Spears goes to? Your answer's looking right at you in the face."
12. Famous Teeth
Talk about celebrity teeth as a comparison. People are more likely to want something their role model has, and you can use that to your advantage.
Example:
"Want Tom Cruise's smile? Well, I can't help with the face but leave the teeth to me."
13. Pop Culture Reference
Make relevant modern references to attract younger customers.
Example:
"Come to me and Weeknd will be singing about your teeth the next time he sings blinding lights."
14. Highlight Your Skills
Brag about your skills as a dentist. A little bragging doesn't hurt, especially when it's a profession like Dentistry. Plus, a first line such as the one below will grab the attention of your target audience, without making you sound egoistic.
Example:
"Few others can compare with my skill on the scaler."
15. Be Speedy
No one likes sitting on that chair for too long...How are you helping?
Example:
"You'll be in and out in minutes if your appointment is with me."
16. Make It Homely
Children hate the dentist but eat a lot of sugar. Find a way to appeal to them.
Example:
"Make sure your child isn't scared of dental procedures with the most kid-friendly treatment in the market."
17. Ensure Quality Equipment
You can also talk about the quality of your equipment, as that is bound to get more attention from potential customers.
Example:
"Whether it be the scaler, pliers, or spoon, we've got the best dental instruments."
18. Provide Location
Talk about your office location, as it will help customers know where you are located.
Example:
"The best dentist in Brooklyn is at 2828 Geneva Street and word has it, he's offering discounts to those who receive this email."
19. Show Your Expertise
Brag about your dental knowledge and expertise in the field with valid information.
Example:
"From root canals to whitenings, I can help you get your teeth exactly the way you want them."
20. Unique Selling Point
State what you offer that others don't. This will help distinguish you from the rest of the dentists in the vicinity.
Example:
"One in every 3 appointments are free, no matter how long the time difference between them is."
Engaging First Lines For Car Dealers
No matter what automobile you have in your showroom, our first lines will get your target-audience up and running to you.
1. Mutual Customers
Mention mutual customers to reassure recipients.
Example:
"Hey, Greg said you needed a new car and I'm the man for the job."
2. Best Offers
Go in with the best offers off the bat, to score several clients in one go.
Example:
"Get the Chevrolet Impala at $24,000 right now with 4 years of free servicing."
3. Allow Follow-Ups
Check up on old customers to see if they need servicing or a new car. This will also create loyalty among customers.
Example:
"This is Greg AutoService365! Hope your Porsche is serving you well."
4. Self-Affirmed
If you are confident in your abilities, then highlight them to build confidence in customers.
Example:
"If you want only the best quality, look no further than Sam's Car Dealership."
5. Remain Hopeful
Be optimistic in the first line of your email to sound nice and hopeful. Nobody likes overly-cocky threads anyway.
Example:
"We hope you consider us when purchasing a car."
6. It's Fine to Exaggerate
It is sometimes okay to oversell yourself as long as you are not misleading customers with fake information.
Example:
"We offer premium cars at unbeatable prices!"
7. Outlet Location
Let customers know where you are situated for their convenience.
Example:
"For the best car in the market in top-notch quality, come to 2544 Burns Street California"
8. Highlight Selection
Talk about the wide range of cars you have to offer, so they know of the variety you're selling.
Example:
"BMW, Ferrari, Audi, Lamborghini, or Toyota, we've got all of the best cars in the business."
9. Thankful
You can thank the reader for their time after they have made a purchase, or have signed up for a deal with your company.
Example:
"Thank you for taking the time to check out the best car dealership in town."
10. State the Prices
Talk about how your prices are reasonable and incomparable in the industry.
Example:
"You can't buy cars much cheaper unless you commit grand larceny. But we've got them covered for you!"
11. Offer Insurance
Insurance is a pretty important aspect of car deals, so you can talk about it in your first line.
Example:
"We offer the best cars with reliable insurance so you can be financially secure."
12. Allow Repairs
If you offer repairs and maintenance, then there's no reason for you to not advertise it. Let your audience know you've got their backs.
Example:
"Cars break down, it's only natural but here at Sam's, we'll help patch that baby up so she's good to go."
13. Advertise the Designs
Advertise the design of the cars for sale.
Example:
"The stunning Aston Martin DB5 comes in silver and can take your breath away."
14. Famous Buyers
Talk about any famous people who may have bought a car from your showroom. You will want your first line to be something that catches the attention of your audience within seconds. Relating famous people with your audience will make them trust you.
Example:
"This is the choice outlet for Matt Damon. If it's good enough for Jason Bourne, it's good enough for anyone, isn't it?"
15. Introduce Famous Cars
Talk about famous cars that your showroom might be sporting. Your audience might not want to purchase from you first, but the range of cars decorating the store might make them reconsider.
Example:
"The Aston Martin DB5 is back in stock at our showroom after years. Get yours before they run out again."
16. Refer to Movies and TV
Reference famous quotes or scenes from pop culture.
Example:
"This Aston Martin DB5 has a license to kill...You can get 007's choice vehicle today at our showroom."
17. Ask Them Questions
Ask rhetorical questions to make your email more interactive.
Example:
"You can't find better prices anywhere, can you?"
18. Brush Up OnThe Lingo
Show that you are knowledgeable by using the technical terms.
Example:
"We've got the best engines, premium torques, and reliable brakes on all our cars."
19. Introduce Niche
As a car dealership, if you serve a niche, make it known. This first line will help your audience get familiar with your work quick and easily.
Example:
"Your ideal dealership for antique cars with the Chevrolet Impala and Aston Martin DB5 currently on sale."
20. Show Competitive Advantage
Talk about unique features that set your showroom apart from others in the market.
Example:
"We offer 5 years of free servicing with any new car."
Conclusion
Now that you know a variety of great ways to write the first line, you can edit them in your way and use them for any purpose. But what about when sending emails in bulk?
Well, don't worry, Outreachbin has got you covered here as well, whether it be for cold emails or the best follow-up email templates. We will help you through every step of the way.
We will personalize the first lines for all your emails to help maintain uniformity without losing the charm that they typically bring to an email.