How to create an OutreachBin Account:
Begin by typing www.outreachbin.com in your browser.
2. Click the Login tab on the top right corner of the webpage.
3. Click Sign up.
4. Enter your first name, last name, email address, and password.
5. Verify your identity by check boxing "I'm not a robot."
6. Press the Sign Up button.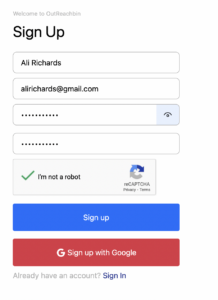 How to upgrade your Outreachbin plan:
     1. Once you have successfully logged into your account, click on the upgrade plan icon on the right-hand side.
2.  Click the upgrade now button from the drop-down menu under the outreachbin plan section.
3. Enter the number of email accounts you want to connect to and then click on choose plan.
4. Enter your card information, country or region, and zip code.
5. Press the subscribe button.